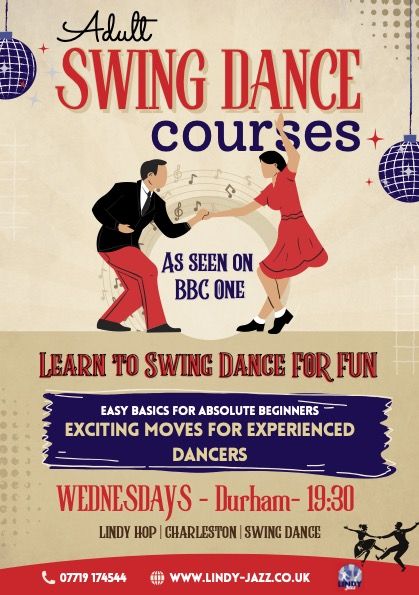 Join our Swing Dance course 17 January!
Learn to dance with style & confidence.
You'll learn fun & exciting moves seen in many of the most iconic vintage videos including the Swing Out.

💃🕺Wednesdays from 17 January at St Aidan's Hall, Durham DH1 5BL from 17 January
Get step-by-step guidance so you can dance with style & confidence at social dance events.
Here's What You Get:
✅ For all levels 19:30 -20:15 Swing Dance Fundamentals
✅ For Experienced Dancers 20:15 -21:00 Extra Class
✅ Access to online videos to help you recap the moves in between classes
✅ Access to a private Facebook Messenger group so you can ask about anything!
✅ Optional online feedback on your practice video
Lindy Jazz is More Than An Evening Class!

🙌 Everything will be explained from the beginning

🙌 You can come on your own, with a partner or with friends

🙌 You can practise with free access to our lesson videos online if you miss a class
Are there any prerequisites to join the course?

No dance experience is necessary as everything will be explained in a step-by-step system, but you do need to be in good health. If you have about 5 minutes a day to practise, that's a bonus but not compulsory.

When can I join the course?

When you join the course you have immediate access to all the online class materials. This course starts on 17 January 2024.

Is this a beginner or advanced course?

The courses at Lindy Jazz are carefully designed to ensure that dancers of all or no dance experience will benefit from every single class. There are options in every class so you can choose to take it easy or take on the more exciting moves. The choice is yours!

Will we learn a routine or will we be learning to social dance?

You will be learning to social dance.

What kind of steps will we learn?

You will get to build the foundations for swing dance which will include Triple Steps, Rock Steps, 6 & 8-count basics, 1920s and 1930s Charleston, solo jazz and techniques for social dancing.

What should I wear?

Wear casual, comfortable clothes for the classes. As most people are coming straight from work, very few people have time to dress up - this we reserve for our weekend social events. We recommend that you change from your work clothes into something fresh and comfortable that allows you to move easily. In terms of shoes, wear comfortable shoes with a smooth sole.

What if I join and decide it's not for me and want to cancel my course membership?

For some people, trying something new is exciting. For others, trying something new may feel uncomfortable. You may or may not see immediate results after the first class. We recommend that you attend the whole course before making up your mind as it may take time to feel the full benefits of the course.

We are confident that if you attend all 6 classes in-person or virtually and practise for 5 minutes a day, you will have a few fun moves under your belt.

If you can show us that after attending all 6 classes in-person or virtually and submitting your 5-minute practice videos each and every week via www.wetransfer.com, you are still not making progress, email us we will offer you a refund!

When does this course start?

This course starts on 17 January 2024.

What about Early Bird tickets?

Early Bird tickets are available up to 2 weeks before the course starts.