Swing Music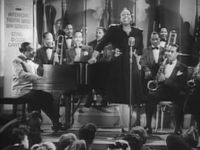 The music of the Swing Era - which gave birth to dances like Lindy Hop - was exciting, and vibrant. It was the underground club music of its day - and it has kept all of its appeal over the decades since, which is one of the reasons why these dances are still so popular today.
Music at Lindy Jazz
We pride ourselves not only on using the music that most suits the dance, but on using the best of the old swing music - the music that kept people dancing for hours on end, for night after night. Legendary artists like Count Basie, Duke Ellington, Jimmie Lunceford, Chick Webb, Louis Armstrong, Artie Shaw, Benny Goodman Cab Calloway are among the nearly endless list of artists who helped make the Swing Era one of the biggest musical revolutions in history.
Head DJ Andy
Andy has been the resident Lindy Jazz DJ since we began in 2007. In that time, he has become a sought-after Swing and Blues DJ both nationally and internationally, having played at huge number of events around Europe - including Chase Festival in Germany, the European Swing Dance Festival, the London Swing Festival, Hullzappoppin' and Camp Savoy in the UK, Herrang and the Snowball in Sweden, and many others both locally and abroad.
Over the years, Andy has built up a superb collection of music for swing and blues dancing, but what marks him out beyond that is his innate sense of how to play the right track at the right time - to understand the mood of the dancers on the dancefloor, and play music to excite and inspire them, and help them create magical moments in their dancing.